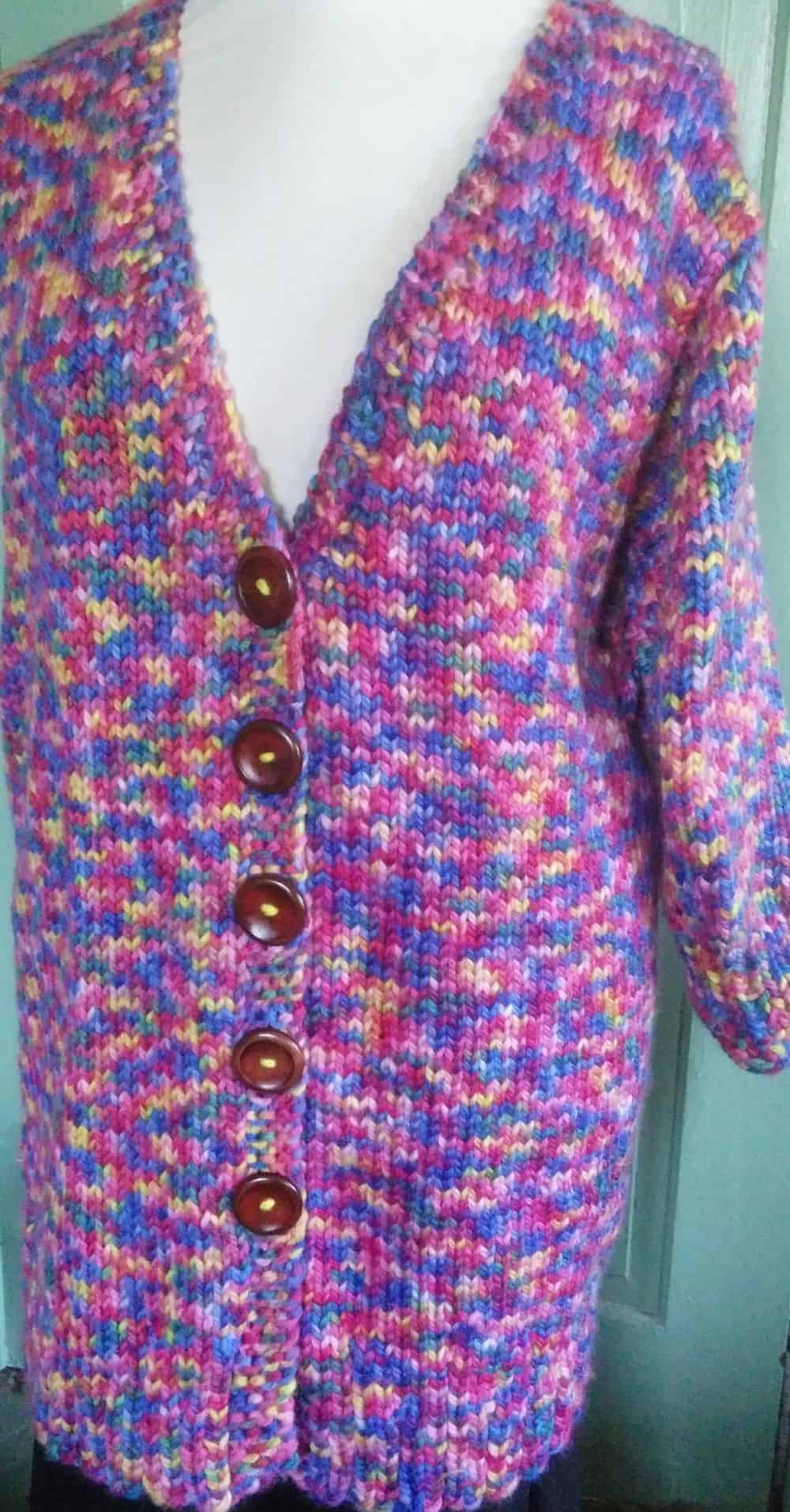 This sweater is designed specifically for knitting on the Kiss Dragon loom. Regular or small gauge Kisses with enough washers to match the gauge will also work. Other looms that match gauge and have sufficient pegs may also be used. Peg requirements vary from 70-92 with size. A robust #5 or light #6 yarn may be used.

The garment has a center back seam but no side seam. Sleeves are knitted top down. A scarf tab on the back keeps your scarf from getting lost. Optional pockets are not shown on the sample but are included in the pattern.Gauge is 2.5 stitches/4 rows/". 8 sizes finish to 36.5-70" at chest and hip. Unisex
Knit this versatile headwear on any loom that can knit in the round with enough pegs for your gauge. It does not matter whether the loom is actually round as long as it can be knitted round and round. Kiss looms are ideal but others may be used if the peg count is correct for the gauge. Adjust your loom so that the yarn knits quite loosely in U stitch. For example, #4 and #5 yarn might normally be knitted at 4-4.5 and 3-3.5 stitches per inch. For the samples we knitted them at 3.5 and 2.5 stitches per inch. The loose stitches have different stitch to row rations than usual. [rows=80-83% of stitches]. Ends are knit 1, purl 1 rib.

Gauges given are 2.5, 3, 3.5, 4, 4.5, 5, 5.5, 6, 6.5, 7 stitches per inch. This is the same as 10, 12, 14, 16, 18, 20, 22, 24, 26, 28 stitches per 10 centimeters/4". With this many yarn possibilities, the yarn requirements will vary quite a bit. The most consumed by any of the acrylic and wool samples was 6 oz.

One size fits all adult ladies and most teens.

Peg requirements for the stated gauges are 60, 72, 84, 96, 108, 120, 132, 144, 156, 168.
This garment looks best with softly draping fabric. With that in mind, you may want to knit somewhat looser than one might use the same yarn for mittens or a traditional hat.

Optional Variations include an extra long neck section [dark green] and changing yarn half way through [light green]. Size variations are also offered
The Magic Dolman is a very easy-to-knit and unusual shape that is very flattering on a wide variety of figures. Size small fits 30-38 bust, medium fits 36-46 and large fits 38 to at least 48 bust. Sizes are very forgiving as you can see! The pattern is presented in multiple gauges. If you can get 3, 3.5, 4, 4.5, 5, 6 or 7 stitches per inch and have enough pegs for your size and gauge, you can knit this. The peg requirements are given in the chart above. All of the samples were knitted on Kiss looms which are ideal but other looms that can match any one of the gauges may certainly be used. Pattern is 12 pages and includes lots of details you can add to make your project special. See pix below. Pattern is $10.99 as an instant download.










TABLE OF CONTENTS
Maximum peg requirements Above & p.4
Overview, diagram , back details Page 2
Yarn, loom, stitch & gauge Page 3
Sizing Pages 3-4
Magic stripes Page 3
Metric conversions Page 4
Techniques & definitions Page 5
Knit the left & right panels Page 6
Knit the center panel Page 7
Purl embellishments [4 charts] Page 8
Cables [2 charts] Pages 9-10
Lace [1 chart-4 lace looks] Page 10
Duplicate stitch [7 charts] Page 11-12
Graph paper for your own motifs Page 12


The entire blanket is made from knit and purl combos. You will learn seed stitch, basket weave stitch, and the Greek key design. A chart is included for each.
BLANKET SIZES: Super Bulky Version using a yarn at the top of the #6 range that gets a gauge of 2 stitches/2.35 rows/" produces a blanket that measures 40"X 40". If the gauge is 3 sts/4r/", using a #5 yarn the blanket will measure about 27" X 27", which is a popular size for baby blankets. Using #4 yarn that gets 4 sts/5r/" the blanket will measure about 20" X 20" which is often used for preemies or beloved dolls. Expect variation due to exact yarn choice and personal knitting style. See the end of the pattern for size adjustments and metric conversions. If you cannot match the gauge but are not particular about size, it is fine to just knit this blanket at whatever gauge you can achieve. Super Bulky sample was made on a Kiss regular gauge loom with 19 peg sides and 21 peg ends. The super bulky version would be a real challenge on the small gauge loom, though probably not impossible. The other gauges will knit fine on the small gauge loom.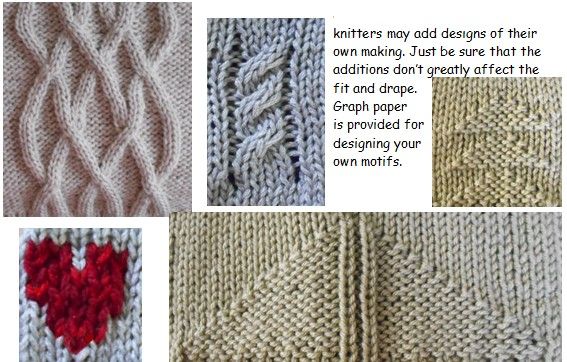 Pictured above are just a few of the things you can add to the back of your Magic Dolman sweater which is further described at left. See the table of contents at left for a complete list of the options included in the pattern.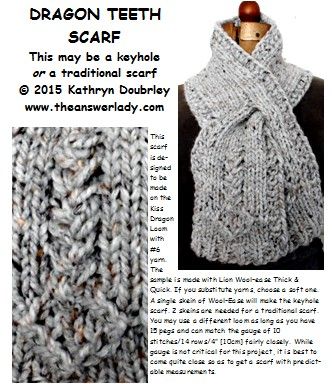 The Dragon Teeth scarf is designed specifically for the Kiss Dragon Loom though other looms that can match the gauge of 10 stitches/14 rows/4" [10cm] and have at least 15 pegs may also be used to knit it. The cables may look daunting but are actually very simple and very fully explained in the 4 page pattern. The 4 page length is purely to allow for lots of illustrations and explanations. Don't imagine that it means a complex design. A cable chart is included. All terms are defined and abbreviations are not used to make the pattern beginner-friendly. $3.00 as an instant download.