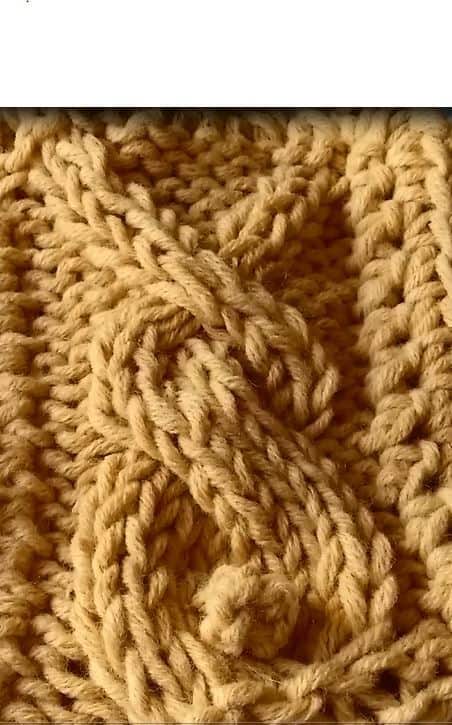 This bunny cable was inspired by one a friend spotted in a hand knitted project. It is not a copy. Different proportions and techniques work better for the loom and we never saw the instructions anyway. So if you happen to have hand knitted a bunny cable, don't expect this to be identical because I am certain it is not. I did things quite a bit differently than what I think I spotted on the hand knitted sample. But it was a great mental kick start! Directions for Kissing this cable and a video playlist are below.
Kissable Cables Playlist
Kiss Bunny Cable
(c) 2015 Kathryn Doubrley [aka Kate Winslow on facebook]These instructions are free but please respect copyright by suggesting that those who want them come here to get them. Also, if you run into problems, don't assume that the problem is you! Get in touch and I'll help you work through it. It is always possible that the instructions need polishing and I'll be glad to have your help spotting that and will fix it.

The cable is actually worked across 8 stitches. The instructions include a background of purl stitches, 3 on each side of the cable. These will set the cable off and make it very visible. Therefore the instructions include 14 stitches.The cable works best using a small gauge loom adjusted to knit bulky yarn. The reason for this is that the small gauge keeps the pegs close together and the stitches are proportionately large compared to the width of the loom. Technically, the operations are all possible with other gauge arrangements but I will tell you that I tried quite a few and this was the only way I truly enjoyed doing this cable and that it met my standards of attractiveness. It would not have to be a small gauge loom to get this effect. The issue is proportion. So if you adjusted a fine gauge loom to knit worsted weight yarn well or a regular gauge loom to knit super bulky yarn, you'd achieve the same kind of proportion.

Begin by knitting 3 rows of purl stitch across 14 stitches. You may certainly use more stitches if you wish to center the design in a pillow, scarf of sweater. Just knit whatever you wish up to the center 14 stitches, then follow the instructions.

You will want to set up so that, if you are right handed, the first cable row is worked right to left and, if you are left handed it is worked left to right. That may mean working an extra purl row prior to the cable which is perfectly all right.

Row 1: purl 3, knit 8, making a 4 X 4 cable cross on these 8 stitches, purl 3. The 4 X 4 cable on a loom is a challenge. I have developed a special technique that is shown in the Kissable Cables video series. You'll benefit from watching that.
Row 2: purl 3, knit 8, purl 3. You have some options on these rows. If knitting a free standing panel, you may wish to slip the first of the purl stitches each row so that would be slip 1, purl 2. You may also knit more rows here, making the bunny's body longer.
Row 3: purl 3, knit 3, knit the next 2 for several rows, creating a bobble. Hang the bobble. There is a video devoted to this step. Knit 3, purl 3.
Rows 4-6: purl 3, knit 8, purl 3.
Row 7: like row 1, a 4 X 4 cable with 3 purls to either side of the cable.
Rows 8-10: Like rows 2-6. If you lengthened the body of the bunny, you may or may not wish to lengthen the head a little by adding 1-2 rows. There are no 4 X 4 crosses after this point so it is not such a great concern whether you are now working from the right or left end when a cable is crossed.
Row 11: purl 3, knit 4, working a 2 X 2 cable on these 4, knit 4 again, working another 2 x 2 cable. Purl 3. See the video on 2 X 2 cables for specifics on how to do this. Here are some options to consider. I like the bunny best using the direction of crossing presented in the video, which I'll call option 1 below. But you can change the look if you wish by crossing the opposite direction. Doing this will make the next row different, too.
Row 12: Purl 5, knit 4 and work a 2 X 2 cable on the 4 knits. It does not matter which way this cable is crossed. In other words, either pair of stitches may be replaced on pegs first. If you used option 2, this row is different: purl 3, knit 2, purl 4, knit 2, purl 3 and there is no cross.
Row 13: If you used option 1, purl 5, knit 4, purl 5. The center 4 stitches are going to be the bunny ears. If you crossed differently on row 11, you will purl 3, knit 2, purl 4, knit 2, purl 3. Using this option, your bunny ears are already at the outer sides of his head. Using the first option, demonstrated on the video, the ears begin positioned at the center to the top of his head.If you knit option 2, your bunny ears have less distance to move outward and rows 13-16 will be the same as this one.
Row 14: purl 5, knit 2, cross the 2 knit stitches and the purl stitch, keeping the purl stitch in the background by crossing the knit stitches first.Knit 2, purl 1, cross the knits and the purl keeping the purl in the background. Your knit stitches [ears] are moving away from each other and background stitches are filling in the space above the bunny's head. Finish with purl 4. If you knitted option 2, this row is different. It involves no crosses. Purl 3, knit 2, purl 4, knit 2, purl 3.
Row 15: for ear option 1, purl 4, knit 2, purl 2, knit 2, purl 4. For option 2, repeat row 13.
Row 16: purl 4, knit 2, cross the last purl with the knits. Purl 2, knit 2, purl 1, cross the purl with the last 2 knit stitches, purl 3.For ear option 2, repeat row 13.
Row 17: Both ways of knitting the ears will be the same this row: purl 3, knit 2, purl 4, knit 2, purl 3
If you have a larger field of purl background and wish to make exaggerated ears, keep working crosses every other row for a couple more rows. You may also move the ears apart more quickly by crossing knit and purl stitches every row or more slowly by doing so every 3rd row. I suggest that you make one bunny just as written to see how it looks in your yarn & gauge and with reference to the project you have in mind. After that, it will seem much clearer and simpler in your mind and you'll be able to try variations for fun.

finish with at least 3 rows of purl to set create a background for the top of the bunny.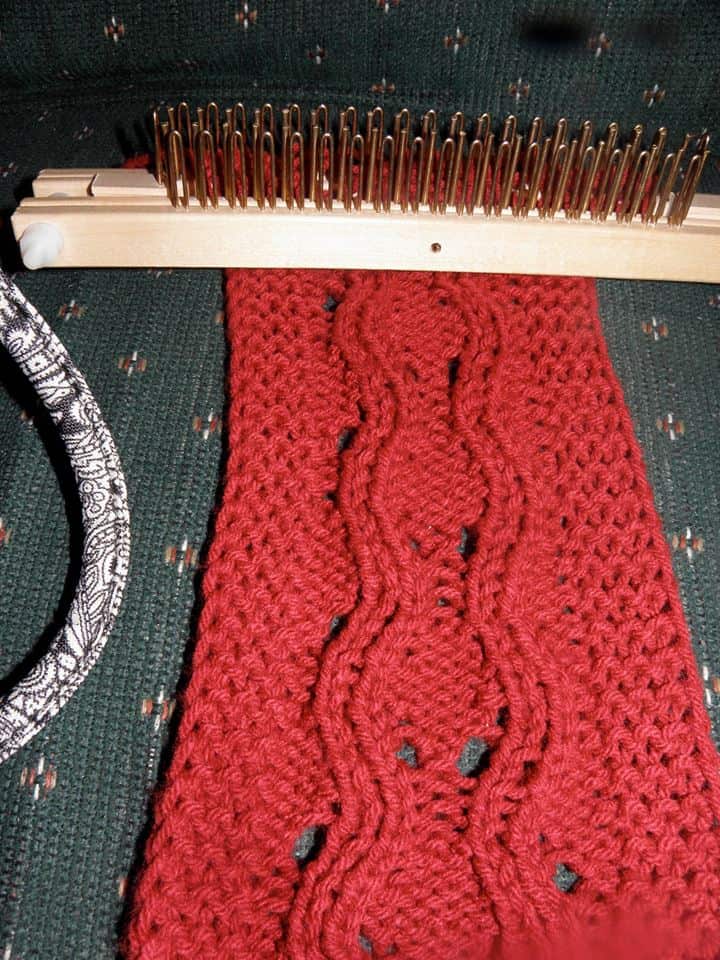 Lace Edged Wavy Lines Cable
© 2015 Kathryn Doubrley http://www.theanswerlady.com

Knitted on 19 pegs
Abbreviations: SL=slip, K=knit, P=purl, W=wrap an empty peg

Row 1:L1, K6, P2, K1, P2, K7
Row 2: SL1, P3, K3, P2, K1, P2, K3, P3, K1
Row 3: SL1, K6, P2, K1, P2, K7. Move the stitches on pegs 8 & 9 to pegs 7 & 8, move those on pegs 11 & 12 to 12 & 13
Row 4: SL1, P3, K2, P2, W1, K1, W1, P2, K2, P3, K1
Row 5: SL1, K5, P2, K3, P2, K6. Move the stitches on 7 & 8 to pegs 6 & 7, move 12 & 13 to 13 & 14
Row 6: SL1, P3, K1, P2, W1, K3, W1, P2, K1, P3, K1
Row 7: SL 1, K4, P2, K5, P2, K5.
Row 8: SL1, P3, K1, P2, K5, P2, K1, P3, K1
Row 9: SL1, K4, P2, K5, P2, K5. Move these stitches on pegs 6 & 7 to & & 8, those on pegs 13 & 14 t 12 & 13.
Row 10: SL1, P3, K1, W1, P2, K3, P2, W1, K1, P3, K1
Row 11: SL!, K5, P2, K3, P2, K6. Move the stitches on pegs 7 & 8 to pegs * & 9, those on 12 & 13 to 11 & 12.
Row 12: SL1, P3, K2, W1, P2, K1, P2, W1, K2, P3, K1

Repeat these 12 rows for the length desired. You may alter the cable by repeating rows 1 & 2 and rows 7 & 8 an additional time to elongate the cable. The cable may be shortened and sharpened by omitting rows 1 & 2 and rows 7 & 8. Be sure to watch the video series on this cable. That will make it really clear and easy to knit.

You may add extra garter stitch or repeat the cable to widen the pattern.

The photo is of the wavy lines cable being knitted by my friend Melanie Fulton from our Kiss knitting group. Great job, Melanie!