All-in-One Bikini
Beautiful Brim with Lattice Trim
Ballet Slipper and Mary Janes
Cabled Collar
Cabled Keyhole Scarf
Cabled Kisses fingerless gloves
Cable Me Not Scarf
Cabled Slip Knot Shawl
Cables and Lace Spring Cardigan
Cables & Stripes Hat
Classic Basketweave washcloth for looms
Classic Slippers for Loom Knitters
Cottage Garden Cardi
Cozy Cape
Cuddly Characters
Dragon Teeth Scarf
Exer-socks
Fabulous Felted Booties
Felted Mini-bag
Fingerless gloves-double knit
Fingerless gloves for the fg-3
First Kissable Cabled Hat
Girl Talk American Girl doll outfit
Inside Out Aran Cowl
Inside Out Aran Jacket
Itsy bitsy Cindwood Socks
Itsy Bitsy Kiss Socks
Jack's Aran Vest
Kiss Confetti Slipper Socks
Kiss Crescent Scarf
Kiss your Fanny chair pad
Kiss Your Kids Pullover Sweater
Kissable Doll
Locked in Warmth-double knitted keyhole scarf
Love Pillow-double knitted
Magic Dolman-ladies cardigan
Marvelous Mobius
Masterpiece Coat-double knitted
Mini Me loomed baby socks
Nifty Patterns for Knifty Knitters-book. Be sure to read the whole table of contents
Not a Knot Scarf-double knitted
on The Go Backpac-double knitted
Perfect Pillows-double knitted
Picture This-book. be sure to read the whole table of contents.
Pinwheel Dishcloth
Rose Garden Afghan-double knitted
Scowls That Bring Smiles-shaped hood/cowl
Scrubby Stuff
shadow work baby vest and jacket-double knitted
Shadow Work Dish Clothes-double knitted
Shadow Work shawl-double knitted
Shadow Work Scarf-double knitted
shadow Work Colledtion-book. be sure to read the whole table of contents
Shapely Shawl-double knitted
Shaped Fairisle Hat-double knitted
Snowflake Scarf-double knitted
Snuggly Sampler Blanket or Shawl
Snuggly Scarves-double knitted
Socks of All Sorts-book. be sure to read the whole table of contents
Spring Shrug-double knitted
Square Slippers-double knitted
String Shopper
Step It Up Socks
Super Scarf
Super Socks
Swanky Snowman
Toe Up Work
Tongue in Cheek Ascot
Top Down Socks
Touch of tunisian with Cables of Love Socks
tuck Stitch dish & bath cloths
Turkish Delight Slipper Socks-double knitted
FREE THINGS FOR LOOM KNITTERS
The items below are housed on Mediafire, a file sharing service. You will leave this website and go there to download. It is safe and legitimate but you may see ads and download links that are NOT for my articles. Be very careful that you are clicking on ONLY what you went looking for as I have no control of what else may appear there.

Fun Fur scarf for double knitting boards
make your own double knitting board
translating from one gauge to another
tweaking your tools
felted mini-bag
Scalloped hems
super Scarf
Graph Paper 4 stitches/6 rows/inch
Graph paper 7 stitches/10rows/inch
making graph paper with the software you have
loom knitting video index for traditional looms
Kiss loom video index

SINGLE KNITTING VS. DOUBLE KNITTING
Both of these may be done on looms. Single knitting may be virtually identical to hand knitting on 2 needles. It requires a single row or circle of pegs. Some double knitting boards may be used one board at a time to produce single knitting.

Double knitting is thicker and warmer than single knitting. The gauge tends to be a little bit looser than single knitting if the same yarn is used but it is not see through on account of the 2 layers of fabric. Both faces of double knitted fabric normally look like the knit side of single knitted fabric. This may be altered on purpose with special techniques, but generally, it is true.

Double knitting requires 2 boards that are parallel to each other. The simplest is a purple version by Knifty Knitter. Kiss looms may be used as double knitting boards by removing the pin boards. The KB company made several boards specifically for double knitting. The All-in-One loom by KB may be used for either double or single knitting. Noble Knitter makes some boards that, while mostly designed with double knitting in mind, may be set for single knitting.

Single knitted stockinette always rolls at the edges unless purl stitches are interspersed with knit stitches. Double knitted fabric does not do so. Cables and lace are possible with both fabrics. Shadow work is a technique that I invented and is only possible on double knitting.


MANY KINDS OF LOOMS
I've worked with a lot of brands. Most are perfectly functional and fun to use. My personal favorite is Kiss Looms. I like them because both gauge and peg count can be adjusted. I also like the pin and peg system which looks complex but actually makes things easier when knitting, after a bit of practice. I am a person who tends to overdo. So early on I was delighted to discover that with Kiss looms, repetitive strain syndrome is dramatically reduced! they don't advertise it. This is my personal statement. Other knitters have agreed with me. But don't expect results right away. While you are learning any skill, you'll be tense and that's tiring. Practice and relaxing will eventually make you a better knitter and perhaps produce other benefits. Kiss looms come in a multitude of gauges and styles. Patterns that are designed especially for Kiss looms are on this page. Experienced knitters may be able to work them on other looms. There are also quite a few patterns here that were originally designed for other looms but will work nicely on Kisses. Always look for the peg count and gauge to see if a pattern is a good idea for a particular loom. Kiss knitters who wish to do double board work may also use many of the patterns listed.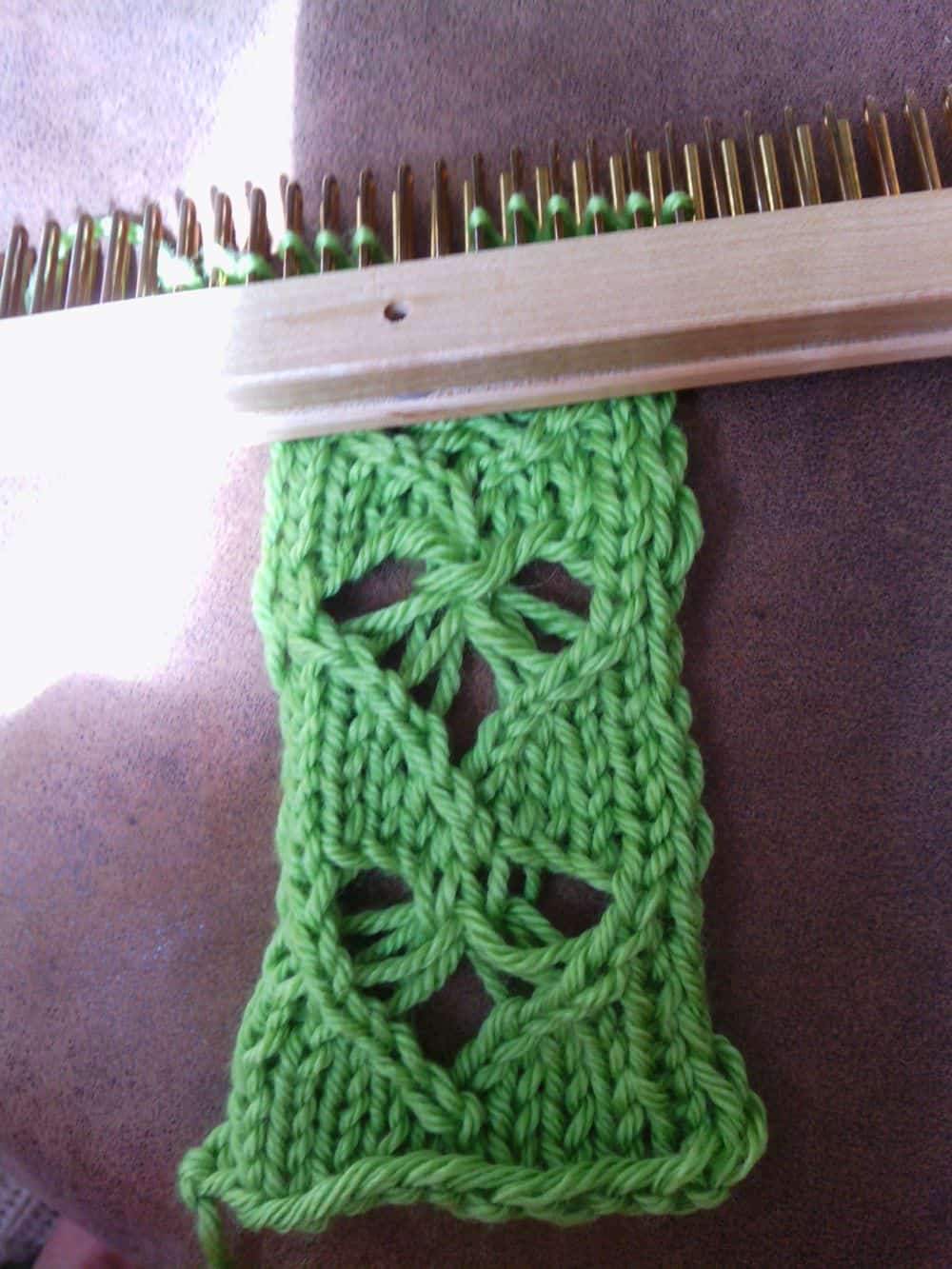 Heart Lace for Loom Knitters

This lace could be repeated across a larger fabric. There are 10 needles involved in the lace but cast on 14 so as to create an edge on each side.
The basic design is to slip stitch 1 in each row, purl stitch 2, knit 10, purl 1, knit 1. But after we begin transferring stitches,some of the center pegs will get slipped in some rows. Where multiple stitches or loops are on a single peg, knit all of them over the next time a row is knitted.

Row 1: slip 1, purl 1, knit 10, purl 1, knit 1. Now cross the stitches that are on pegs 7 & 8
Row 2: Slip 1, purl 1, Knit 10, purl 1, knit 1. Now lift the stitch on peg 6. Move the stitch from peg 7 to peg 6 and replace the original stitch on peg 6 which now holds 2 stitches while peg 7 is empty. Move the stitch on peg 8 to peg 9 in the same manner, first lifting the original stitch from 9, putting the stitch from 8 on 9 and replacing the original stitch on 9
Row 3: slip 1, purl 1, knit 4, slip the 2 empty pegs, knit 4, purl 1, knit 1. Work stitch transfers on pegs 5/6 and pegs 9/10 in the same way as on row 2. This should leave 4 center pegs empty.
Row 4: slip 1, purl 1, knit 3, slip 4, knit 3, purl 1, knit 1. Work transfers on pegs 4/5 and 10/11 using the established method.
Row 5: slip 1, purl 1, knit 2, slip 6, knit 2, purl 1, knit 1. Work transfers on 3/4 and 11/12 using the established method.
Row 5: slip 1, purl 1, knit 1, slip 8, knit 1, purl 1, knit 1.
Row 6: slip 1, purl 1, knit 1, e-wrap the 8 empty needles, knit 1, purl 1, knit 1. Lift the floats that were formed while center needles were being slipped and hang them on pegs 7 and 8. Hang the top float on 7, the next on 8 and keep alternating until all 5 have been hung.
Row 7: slip 1, purl 1, knit 10, purl 1, knit 1. When knitting the center 2 pegs with all of the floats hung, knit over ALL of the yarn loops.
Row 8: slip 1, purl 1, knit 10, purl 1, knit 1
Repeat these 8 rows up the work.

If you spot something that doesn't look quite right in the instructions, please don't struggle. Get in touch and I'll check it. Possibly I have worded something wrong and if so, of course I want to fix it


This is the cable chart for the Kiss Sampler Scarf Knit-along. The video link to the knit-along is on the video index page