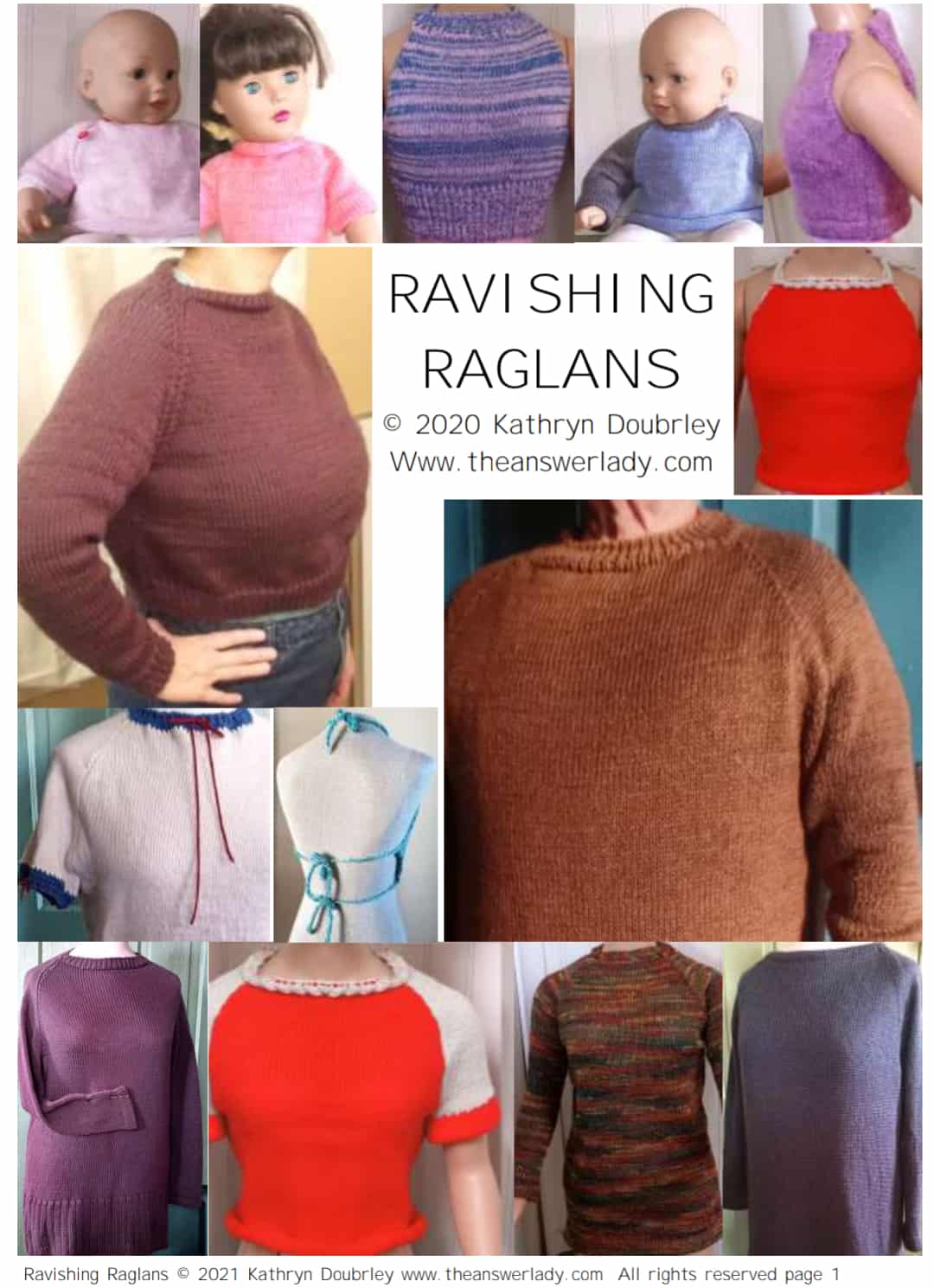 $20 This is a pdf book for machine knitting. Almost any flatbed knitting machine may be used. Multiple gauges are included for this reason. It will be delivered by the Ravelry system. You don't have to be a Ravelry member for the delivery to succeed. Book is 62 pages.

The main focus is on the unique shoulder shape that is flattering and fit improving over classic machine knitted raglan shapes. Lots of necklines, hemlines and finishes are described so you can pick the look you prefer. Experienced knitters may branch out and use their own favorites.
ZOOM CLASS AVAILABLE
I can teach this design to your knitting group via zoom. It's not difficult knitting but the concept may be easier to grasp with a demo. For the class fee, your group will receive one time access to a series of private videos that are separate from my free-to-the-public YouTube collection. They are available only for this,class. I'll be with you at your meeting via zoom. The videos range from 5-12 minutes. After each we can devote a few minutes to questions. Each participant will also receive class notes as a pdf. You should know that I cannot stream live video because here (back of beyond) the signal is too weak and drops zoom if I try. So I'll be with you in voice and represented by my cartoon face on screen. The video presentation is prerecorded and will be streamed by the host to the group to insure a smooth presentation. Class fee includes my participation for up to 90 minutes. Total video time is about 35 minutes so there's a nice cushion for conversation. Group leaders who would like to make arrangements, e-mail Knitting answer lady at gmail dot com. Return the address to normal format of course.
All versions of the Ravishing Raglan (except sleeveless ones of course) have a unique way of shaping the shoulder with a few short rows that greatly improves the fit. The book includes patterns in many sizes and gauges plus printable half scale charts in the infant and adult sizes for use with charting devices.

TABLE OF CONTENTS
Information that applies to all adult versions-a must read section
Suggested hems
Neckbands
Passap Notes
Superba Notes
Bond Notes
Notes for New Knitters
Sizes for each pattern page, adjustments, gauge tweaks
Creating Hip Flare
American Girl Doll Sweater for any standard gauge machine using #1-2 yarn
The difference between a classic raglan and the RAVISHING RAGLAN?
Barely There Ravishing Raglan 1-5 for tweens and teen size 30-38
Includes 5 versions for standard, mid-gauge, bulky with and without ribbers plus a beachwear version
Why full fashioned decreases
Charting device information
Adult charting device knitting instructions
Newborn pattern charts
Newborn pattern charted version instructions 1 size, any gauge
Newborn pattern written instructions 1 size, 3 gauges
Adult bulky written pattern #4 yarn 2 row gauges given
Largest size of the bulky patterns require 106 needles
Adult mid-gauge written pattern #3 yarn
Adult standard written pattern #1-2 yarn, short sleeve & halter notes
Adult pattern charts