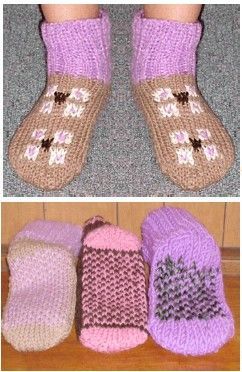 TURKISH DELIGHT SLIPPER SOCKS $4.00

Turkish Delight Slipper-socks are knitted flat, inspired by traditional Turkish hand-knitted sock shapes. This unusual construction gives an amazingly good fit! 2 gauges are given: bulky and worsted. Both work on the Authentic Knitting Board. The bulky version may be knitted on the Knifty Knitter and the worsted version on the Noble Knitter, aLL-n-one, or a Kiss Loom set up for double knitting. Fairisle, increases and decreases make this an intermediate project. 12-24 pegs depending on gauge selected. Board spacing depends on gauge. Yarn is worsted or bulky depending on gauge selected. Sizes from ladies 5 to mens 14 are given. This is a double knitting project.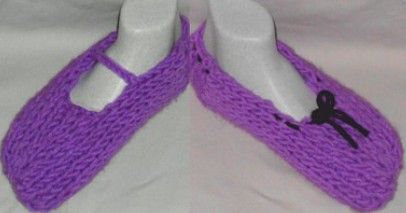 BALLET & MARY JANE SLIPPERS

Great fitting slippers in two classic styles. These are an intermediate project due to extensive shaping. The knitting itself is easy as pie. Knit these on a double board such as the Authentic Knitting Board with 1/2" spacer and 22-24 pegs depending on size. Knifty Knitter long looms will also work.KISS looms and Noble Knitters may be set up to work also.
Kuka Merino bulky or other #5 yarn
ladies shoe sizes 5 to 10. $4
See more KB patterns on these pages KB patterns page 2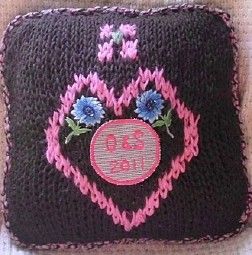 LOVE PILLOW

This pillow knits up very fast using 2 strands of worsted weight yarn with an Authentic Knitting Board set with the boards 1" apart. Other boards that can get close to the gauge of 2.2 stitches/inch on 1 face of the fabric may also be used. It is a wonderful wedding or anniversary gift.31 pegs on each side of the board are needed. A wonderful intro to fairisle knitting. $1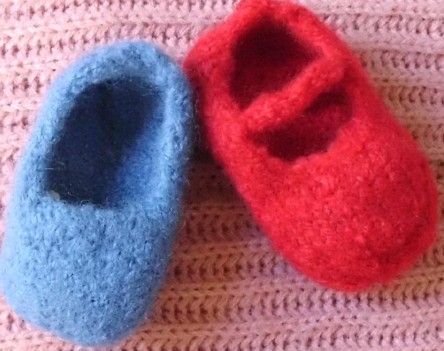 FABULOUS FELTED BOOTIES

These booties are fun and speedy to knit. The combination of merino wool and the felting process renders them itch-free and comfy for tiny feet.
When I designed these, the All-N-One Loom was the only loom I knew that knitted worsted weight yarn. Now I am familiar with KISS looms that will also work nicely as will any loom that is capable of achieving a somewhat loose knit stitch. Pattern uses a maximum of 30 needles for the largest size
Yarn: Patons Classic Wool
Finished size:
0-3, 3-6, 6-9, 9-12 months
Stitches Used: knit stitch, enlarged flat stitch or U stitch--tutorials included. $3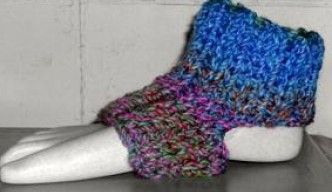 EXER-SOCKS $2

Authentic Knitting Board with 22-26 pegs or any other double knitting board that can achieve a gauge of 3 stitches per inch on one side of the fabric and has enough needles.
Lion Tweed Stripes or other bulky yarn. sizeS: ladies 5 to mens 14.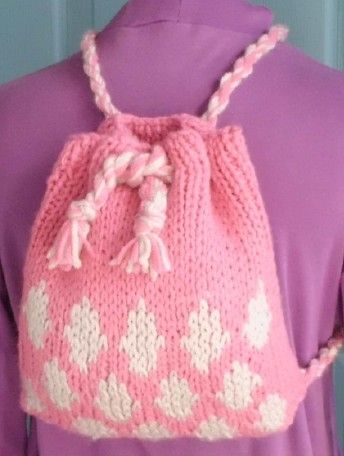 On the Go Backpack $4

Thanks to the nature of fairisle and criss-cross stitches, this bag is actually sturdy enough to hold your stuff. Surprisingly simple to knit, too. Knit on an Authentic Knitting Board, Long Loom, Kiss Loom or Noble Knitter with 27-43 needles on each side, depending on size and gauge selected. Yarn: worsted or bulky. Small, medium and large are about 7, 8.5, and 10" square counting the storage section of the bag. Stitches: double board stockinette, fairisle and criss-cross