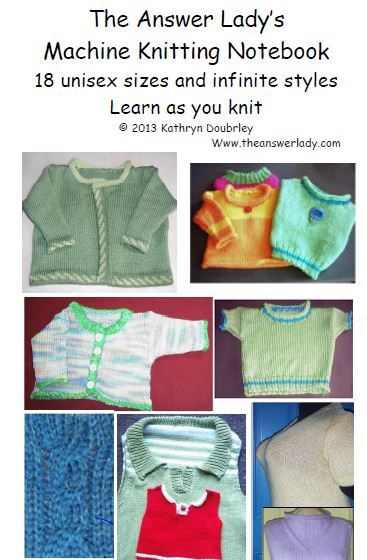 NEWLY REVISED WITH LOTS OF IMPROVEMENTS AND EXTRAS

This is a progressive knitting course in 2 gauges so as to be workable on most machines. It is also a nearly infinite pattern book. The gauges are 4 stitches/6 rows per inch and 7 stitches/10 rows per inch. The first works on bulkies, Bonds and most mid-gauge machines using worsted weight yarn. The second works on Japanese standard and Passap 5mm machines. The book includes chest sizes from 20-54" which includes infants to XL adults. Oodles and oodles of styles are possible. Included are pullovers, cardigans, cables, short and long sleeves, multiple necklines, vests, multiple sleeve styles, darts, fairisle trims and much more. One style builds on the next and terms are fully defined. Originally,the knitting notebook was released as individual chapters,then they were combined to form the book. Since then I have had requests for additional gauges and details and this book is the result. What has changed from the original Knitting Notebook? A size has been added. Sizes now name finished chest measurements for clarity Designs now include both standard and bulky gauges More definitions, techniques and options. Yarn requirement estimates have been improved Passap details are included throughout plus a 2 pages of Passap tips have been added for extra help. A bit of re-organization makes the book flow. A new chapter on funnel necklines. Great for everyone from brand new beginners to experienced knitters. There is a size and a stye in this book for everyone you know.

CORRECTION NOTICE On page 39 of The Answer Lady's Machine Knitting Notebook, the header above the dart chart haD the words standard and bulky reversed so that the row counts are all cattywhompus. Simply reversing the words makes everything right. I have corrected the matter as of 4-10-2014 so everyone who buys a copy from that point forward will have the correct one. Everyone who has already purchased a copy may have a new file to replace the old if she wishes. I think I have e-maild everyone in this category a fresh copy. But we all know that e-mail, much as we love it is imperfect. If you purchased a copy between August of 2013 and April 7 of 2014, it may contain the error. If you did not receive a new copy from me please e-mail me with some details about your purchase such as when you bought it and whether it was at a seminar or via http://www.theanswerlady.com As soon as I find the record, I'll arrange to get your replacement copy to you.

$20

Table of Contents:
Basic dropped shoulder crew neck 3
Neckband options 13
Terms & techniques 15
Create a cardigan 20
Fairisle hems and bands 25
Short sleeves 28
Modified dropped shoulders 30
Dare to dart 34
Keyhole fronts 42
Sleeveless shells & vests 44
Neater shoulders 46
Perfecting fit 47
Create a cable 48
Funnel necks 54
Passap notes 58